THE DRIVE BOWLING CLUB
The Club was founded in 1905. The green was re-laid in 1931. The Club was originally known as the Sussex County Bowling Club but on the formation of the Sussex County Bowling Association in 1917 a change of title became necessary to avoid confusion and the Club was re-named The Drive Bowling Green, after the road outside. In 1934 the name was changed to The Drive Bowling Club, its present name.
The green was at first rented from the Willett Estate and subsequently the Club Members bought the land, which was conveyed to the Club in June 1925. In 1972 a first floor extension was constructed over the old clubhouse.
The Club was the first in Sussex to lay down a green of Cumberland turf. It has a picturesque and secluded setting and is sheltered from the strongest winds.
Over the years the membership has varied, with a maximum of about 100 players and it has enjoyed a full fixture list, as the Club has always been regarded as a friendly one, with a bar. Some of the members have obtained their Sussex County Badge and, in 1994, one member was appointed Sussex County President for the year.
Since its inception, the Club allowed men full playing members only. However, in 1998 the membership of the Club became available to the ladies as full playing members, after 93 years. At that time the management of the Club changed and two sections were formed, one for the ladies and one for the men, both overseen by a Management Committee which comprised representatives of both sections.
In 2005 the Club celebrated its Centenary and played the Royal Household at Windsor, the Tower of London and Chelsea Pensioners Bowling Teams that year. In addition, Executive Teams from the Sussex County Women's Bowling Association and the Sussex County Bowling Association (Men) played at The Drive.
In 2007, because the grass green had deteriorated, it was decided to install an all-weather green, with financial help from members. This has proved to be very successful and popular. It is the only all-weather bowling green

in the Brighton area.
In 2017, recognizing the importance of equal participation of all members of the club and to fully represent the forward looking culture that had evolved throughout the membership, following a unanimous vote by members, The Drive Bowling Club became a fully mixed gender club.
The Badge of The Drive Bowling Club is almost identical to the Hove Borough coat of arms, and shows a Saint Andrew's Cross in the top left hand corner, which represents Hove. Two pairs of leg irons in the top right hand corner allude to Saint Leonard, to whom the Parish Church of Aldrington is dedicated. There are three gold martlets at the base with a dark blue background. The martlet, a heraldic martin or swallow, represents Sussex.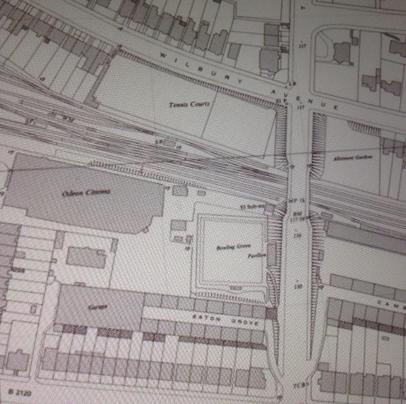 Above: Map of the area ( c 1960?) showing Bowling Club , Odeon Cinema and Tennis Courts
Right:Picture c 1930 - Hove Station with Bowling Club in the foreground